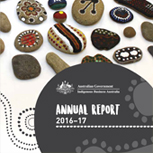 The IBA Annual Report 2016–17 is now available.
We invite you to read about the outcomes of our core activities in the last financial year.
IBA serves, partners and invests with Indigenous Australians who want to own their future. Everything we do is to enhance the economic advancement of our customers and ongoing improvements to our programs remained a keen focus over the year.
The report demonstrates the impact that our activities have on Aboriginal and Torres Strait Islander peoples and communities. You will also find detailed information about IBA as an organisation, our people, our management, and accountability processes.
View the IBA Annual Report 2016–17 (new window, PDF 6MB) or website version (new window)