The Indigenous Business Australia (IBA) Board is made up of eminent Indigenous and non-Indigenous members with expertise in business. The majority of the Board including the Chair are Indigenous.
Mr Anthony Ashby
Ms Patricia Angus
Mr Jason Eades
Ms Judy Hardy
Ms Gail Reynolds-Adamson
Mr Peter Thomas
Ms Claire Woodley
Ms Nareen Young
Mr Anthony Ashby, Chair of the Board
First appointed as Board Director 22 October 2012 to 21 October 2015.
Reappointed as Deputy Chair of the Board 1 December 2013 to November 2016.
Appointed as Acting Chair of the Board 29 June 2014
Anthony Ashby is a Gamilaraay-Yuwaalaraay man from North-Western NSW. Anthony holds a Bachelor of Commerce (UNSW), and has gone on to complete post-graduate qualifications as a Chartered Accountant and Registered Company Auditor. He holds a Public Practicing Certificate from the Institute of Chartered Accountants in Australia and provides professional services to his client base.
Anthony's professional career started as a graduate accountant with Ernst & Young, where he attained Manager level before seeking new experiences. His international accounting experience consisted of time spent with the Moore Stephens Group in their New York/New Jersey offices. Subsequent to these public accounting experiences Anthony moved into the commercial arena as the Financial Manager for the Darrell Lea Group of companies. In 2004, Anthony and his wife Vanessa established their own boutique accounting business.
Anthony is currently a member of the Audit & Risk Committee for Supply Nation and is Chair of IBA's Finance and Investment Committee.
Ms Patricia (Trish) Angus, Board Director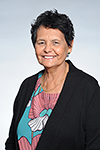 First appointed 1 December 2013 to 1 December 2016
Trish brings to the Board experience and specialist knowledge in strategic policy, legislation, reporting, program and project development along with operational and customer support in housing.
Recently retired Trish has held senior executive public sector positions in the human services areas of health, housing, local government and community services for  more than twenty years. Trish also has experience working in the Australian Defence Force and community controlled organisations. Trish has extensive governance experience following board and committee memberships across a range of sectors.
Trish holds a Masters of Tropical/Public health, has completed a public sector Executive Development Program and the Executive Fellows Program from the Australian and New Zealand School of Government.
She is a current member of the Top End Health Services Governing Council, Director of CareFlight, member of the Charles Darwin University Vice Chancellors Indigenous Advisory Council and a member of the NT Medical Local Community Health Committee.
Trish Angus is a member of the Finance and Investment Committee.
Mr Jason Eades, Board Director
First appointed 19 July 2011 to 19 July 2014.
Reappointed 19 July 2014 to 18 October 2014.
Jason Eades is a proud Gunai man from south-east Victoria, and brings more than 15 years of experience in senior management across the arts, tourism, Native Title and strategic policy sectors, within not-for-profit and government industries. Jason's previous roles have included Chief Executive Officer of the Koorie Heritage Trust Inc., and Manager, Budget and Operations (Planning and Development Branch) of Aboriginal Affairs Victoria. He was also a former co-Chair of Victoria Aboriginal Economic Development Group and former Chairman of Aboriginal Tourism Victoria.
He established the Jason Eades Consultancy in 2009, which later became Eades Consulting Group. His consultancy focuses on governance and developing economic opportunities (including family business and community-based enterprises), and cultural competency and culturally responsive services for Indigenous peoples.
Jason is also a board member of Kinaway Victorian Aboriginal Chamber of Commerce, and Banmirra Arts Inc.
Jason Eades is a member of the Finance and Investment Committee.
Ms Judy Hardy, Board Director
First appointed 9 August 2004.
Reappointed 1 September 2011 to 31 August 2014.
Reappointed 1 September 2014 – 30 November 2014.
Judy Hardy brings to the Board her knowledge of policy development, strategic planning, marketing, community consultation and small business development. She is committed to a partnership approach to Indigenous economic development.
Judy previously held the position of Director of Mental Health in South Australia and now operates an independent national consulting business from Adelaide, South Australia. She is a member of a number of national committees advising the Australian Government on substance abuse, mental health and homelessness.
Judy is also an owner and director of businesses operating in Australia, China and Morocco, in the areas of property development, retirement villages and importation. Her work overseas is focused on the economic development of disadvantaged women.
Judy Hardy is a member of the Audit and Risk Committee.
Ms Gail Reynolds-Adamson, Board Director
First appointed 10 May 2006.
Reappointed 1 September 2011 to 31 August 2014.
Reappointed 1 September 2014 to 30 November 2014.
Born and raised in Esperance, Gail Reynolds-Adamson is a descendant from the Noongar people  who are from the South East Coast of Western Australia.
A larger portion of Gail's accomplishments in the private sector has been in mining and mining services. An invaluable asset to mining companies and various government offices, she is an adept and experienced Consultant with many years in the arena of Cross Cultural Awareness, Cultural Competency Training and Corporate social responsibility.
Gail is a successful past Owner-Director of an award winning Aboriginal Tourism Company based in Esperance, and the director of her newly formed company Kaata Tidje, Gail understands the concerns and needs of the private sector and in particular the challenges faced by small business in rural and remote regions.
She currently sits on the board of the Goldfields Esperance Development Commission and is the Chairperson for South East Aboriginal Health Service.
Gail is a Finance and Investment Committee member.
Mr Peter Thomas, Board Director
First appointed 24 September 2007.
Reappointed 5 October 2013 to 4 October 2016.
Peter Thomas brings years of commercial experience to the Board, together with a commitment to advancing Indigenous business and economic self-sufficiency.
Based in Sydney, Peter is a director of TFG International, a consulting and advisory firm offering high-level strategic advice to the public and private sectors. Peter has a Bachelor of Commerce degree and is a Fellow of the Institute of Chartered Accountants. He was a partner at one of Australia's four largest accounting firms for almost 25 years.
Peter is a board member of Innovation Australia and a director of The Australian Solar Institute (both Australian Government entities). He is also a director of the Alcohol Education and Rehabilitation Foundation; a number of private sector companies; and, on a pro-bono basis, three not-for-profit organisations.
Peter Thomas is also the Chair of the Finance and Investment Committee.
Ms Claire Woodley, Board Director
First appointed 22 October 2012 to 21 October 2015.
Claire Woodley has a diverse background incorporating the banking sector, as well as clinical and managerial experience in the delivery of public mental health services. She has a passion for driving equal access to opportunity across the community with specific interest in providing opportunities for enablement for indigenous people.
Claire brings to the Board her corporate experience in governance, risk management, strategic planning, policy development, business reengineering and project/program management. She also has experience in project portfolio governance including risk and quality oversight of the delivery of global programs of change.
Claire has formal qualifications in Occupational Therapy, Psychology, and Project Management.
Claire Woodley is also a member of the Audit and Risk Committee.
Ms Nareen Young, Board Director
First appointed 21 June 2013 to 23 June 2016
Nareen Young has worked in leadership positions within employment diversity for nearly 15 years. She is widely credited with identifying many new concepts in the area of workplace and business diversity thought and practice in Australia.
Since 2007, she has been the Chief Executive Officer of Diversity Council Australia Limited (DCA), the independent, not-for-profit workplace diversity advisor to business in Australia.
In 2012, Nareen was named by the Australian Financial Review and Westpac Group as one of Australia's 100 Women of Influence and the most influential Australian woman in the diversity category. She was also named one of the 'Twenty Most Influential Female Voices of 2012' by Daily Life.
Nareen is also a board member of the Institute for Cultural Diversity and Netball Australia, and is a member of the Lend Lease Reconciliation Action Plan Advisory Panel.
Nareen has presented and published widely on employment diversity matters and has qualifications in education and employment law.