he Indigenous Business Australia (IBA) Board is made up of eminent Indigenous and non-Indigenous members with expertise in business. The majority of the Board including the Chair are Indigenous.
Mr Edward (Eddie) Fry, Chair of the Board
Appointed Chair of the Board 1 December 2014.
Eddie Fry has extensive experience within the Australian resource sector and is a specialist in Indigenous and native title issues. He holds a Diploma in Business Management from the University of South Australia and is a graduate of the International Lead and Zinc Study Group.
Based in Adelaide, Eddie is a former director and a retained consultant of TNG Ltd, an Australian resource company focused on the exploration, evaluation and development of a multicommodity resource portfolio in the Northern Territory and Western Australia. He is a member of the development team for the TNG Ltd  Mount Peake project.
Eddie is an executive director of Gimbulki Ltd, a native title land access company he established in 2002; Chair of the Indigenous Advisory Board at Transfield  Services (Australia) Pty Ltd; Deputy Chair of the Aboriginal Foundation of South Australia Inc.; and Chair of the Indigenous Land Corporation.
Eddie held senior executive roles with Normandy Mining Ltd, where he established the company's Traditional Owner policy. He was also involved with the Aboriginal and Torres Strait Islander Commission, Aboriginal Development Commission and Department of Aviation.
Eddie is a Dagoman-Wardaman man from the Katherine region in the Northern Territory.
Mr Anthony Ashby, Deputy Chair of the Board
Appointed as Board Director 22 October 2012; appointed as Deputy Chair of the Board 1 December 2013.
Anthony is a Chartered Accountant and Registered Company Auditor. He holds a Bachelor of Commerce from the University of New South Wales and a Certificate of Public Practice from Chartered Accountants Australia and New Zealand.
Anthony's other current board roles include directorships of the National Centre of Indigenous Excellence Ltd and the NSW Aboriginal Housing Office.  Anthony is also an ex-officio member of the Supply Nation Audit and Risk Committee.
Anthony and his wife Vanessa have operated their own public accounting practice since 2004, providing a mix of taxation, assurance, accounting and consultancy services to their client base. Anthony is a Gamilaraay-Yuwaalaraay man from north-western New South Wales.
Anthony is a member of the Finance, Investment and Performance Committee.
Ms Patricia (Trish) Angus PSM, Board Director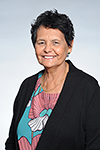 Appointed 1 December 2013.
Trish Angus is a Jawoyn woman from Katherine in the Northern Territory. She has experience and specialist knowledge in strategic policy, legislation, reporting and program and project development, along with operational and customer support in housing.
Trish held senior executive public sector positions in the human services areas of health, housing, local government and community services for more than 20 years. She has experience of working in the Australian Defence Force and community‑controlled organisations, and extensive governance experience, including board and committee memberships across a range of sectors.
Trish holds a Masters of Tropical/Public Health and has completed a public sector Executive Development Program and the Executive Fellows Program of the Australia and New Zealand School of Government.
She is a director of CareFlight and a member of the Top End Hospital Network Governing Council, the Charles Darwin University Vice‑Chancellor's Indigenous Advisory Council, and the Northern Territory Medicare Local Community Health Committee.
Trish is a member of the Audit and Risk Committee and the Finance, Investment and Performance Committee.
Mr Peter Thomas, Board Director
First appointed 24 September 2007; reappointed 5 October 2013.
Peter Thomas brings years of commercial experience to the Board, together with a commitment to advancing Indigenous business and economic self‑sufficiency.
Based in Sydney, Peter is a director of TFG International Pty Ltd, a consulting and advisory firm offering high‑level strategic advice to the public and private sectors. Peter has a Bachelor of Commerce degree and is a Fellow of the Institute of Chartered Accountants. He was a partner at KPMG, one of Australia's four largest accounting firms, for almost 25 years.
Peter is a director of Voyages Indigenous Tourism Australia, the Foundation for Alcohol Research and Education and the Australian Solar Institute, as well as a number of private sector companies. He serves as director on a pro bono basis for three not‑for‑profit organisations.
Peter is the Chair of the Finance, Investment and Performance Committee.
Ms Claire Woodley, Board Director
Appointed 22 October 2012.
Claire Woodley's diverse background includes experience in the banking sector, as well as clinical and managerial experience in the delivery of public mental health services. She has a passion for driving equal access to opportunity across the community, with a specific interest in providing opportunities for enablement for Indigenous people.
Claire brings to the Board her broad business banking experience and her corporate experience in governance, risk management, strategic planning, policy development, business re‑engineering, and project and program management. She also has experience in project portfolio governance, including risk and quality oversight of the delivery of global change programs.
Claire has formal qualifications in occupational therapy, psychology and project management. She is also a Graduate Member of the Australian Institute of Company Directors.
Claire is also a member of the Finance, Investment and Performance Committee.
Ms Shirley McPherson, Board Director
Appointed 1 December 2014.
Shirley McPherson is a Yamatji and Nyoongar woman from the Perth and Murchison regions of Western Australia. She has experience in program delivery and business development at the regional, national and international levels of government.
Shirley is a chartered accountant and has held senior positions in the private, government and university sectors. She is currently Western Australia State Manager of AFL SportsReady.
Shirley has been a consultant to the mining industry in negotiating land use agreements in Western Australia and held roles as Group Manager of Indigenous Strategy and Business with Leighton Contractors Pty Ltd and a member of the Australian Government delegation to the United Nations Permanent Forum on  Indigenous Issues.
Her previous board appointments included Chair of Ngarda Civil and Mining Pty Ltd (2011–2013) and the Indigenous Land Corporation (2001–2011), and board member of McArthur River Mining Community Benefits Trust (2009–2014).
Shirley is a member of the Audit and Risk Committee.
Mr Richard (Rick) Allert AO, Board Director
Appointed 1 December 2014.
Rick Allert is a chartered accountant with many years of experience in the corporate sector. He is a director of Genesee and Wyoming Inc. and its Australian subsidiary, Genesee and Wyoming Australia Pty Ltd; and a director of Kakadu Tourism (GLC) Pty Ltd and Kakadu Tourism (GCH) Pty Ltd, as well as Chair of the James Morrison Academy of Music Pty Ltd.
Rick's previous appointments include chairing of AXA Asia Pacific Holdings Limited, Tourism Australia, Coles Myer Ltd and Coles Group Limited, Southcorp Limited, AustralAsia Railway Corporation, Voyages Hotels and Resorts Pty Ltd, and the Aboriginal Foundation of South Australia Inc.
In 2011, Rick was the recipient of the Ernst & Young Champion of Entrepreneurship Award, Central Region, for his long record of outstanding entrepreneurial achievement and contribution to the community.
Rick is a member of the Audit and Risk Committee and the Finance, Investment and Performance Committee.
Mr Scott Young, Board Director
Appointed 30 April 2016.