Indigenous Business Australia's (IBA's) Investments Program promotes self-management, self-sufficiency and economic independence for Aboriginal and Torres Strait Islander peoples.
We do this by using our capital base, skills and expertise, to accumulate and manage a substantial portfolio of investments. The investments are managed or operated on a sound commercial basis and generate economic impact for Indigenous Australians via financial returns, commercial capability development, employment, training and/or procurement.
Our investment portfolio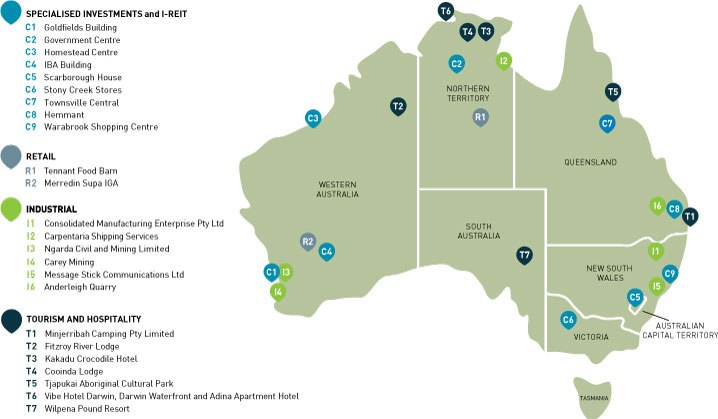 IBA's investment portfolio comprises direct investments across a range of sectors including tourism and hospitality, retail, commercial property and industrial (manufacturing, mining services and primary industries), as well as the Indigenous Real Estate Investment Trust, the Indigenous Economic Development Trust, the Asset Leasing Trust and the Domnican Indigenous Education Trust.
Read more about the individual asset groups within Our Investment Portfolio.
Our focus areas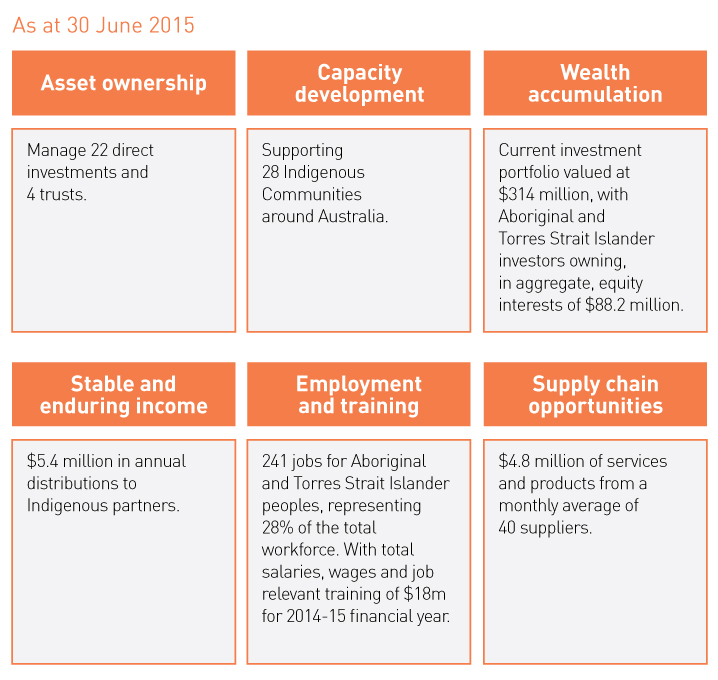 Our portfolio value
Through our Investments Program IBA brings together Aboriginal and Torres Strait Islander peoples and industry capability partners in sustainable investments that have the potential to generate wealth, employment and other economic development opportunities for Indigenous Australians.
As at 30 June 2015, Our Investment Portfolio was valued at approximately $314 million, with Indigenous investors owning, in aggregate, equity interests valued at $88.2 million.
During the last financial year our investment portfolio generated $5.4 million in distributions to its Indigenous partners.
Our history
 (*Data on Indigenous partner and industry capability partner share available from 1 July 2008 only. IBA share includes cash holdings.)
An investment highlight – Minjerribah Camping Pty Ltd
Minjerribah Camping Pty Ltd has realised its first commercial venture, Straddie Camping.

Straddie Camping is a business committed to caring for country while generating economic, employment and social benefits for the Quandamooka people of North Stradbroke Island.

Watch our Straddie Camping video.
Our investment philosophy
IBA has more than 25 years experience in investing alongside Aboriginal and Torres Strait Islander peoples, and has achieved sound outcomes by: undertaking thorough and rigorous assessment and due diligence; focusing on management; adhering to strong corporate governance principles; and applying sound commercial judgment. Read more about Our Investment Philosophy
Our Investment Selection Criteria and Guiding Principles
In building and managing our investment portfolio  IBA is guided by an integrated investment philosophy, which includes an established set of guiding principles. Read more about Our Investment Guiding Principles.
Every investment opportunity is unique and is assessed against its overall strategic goals, with returns and risks carefully weighed against established criteria. Read more about Our Investment Selection Criteria.
Indigenous Real Estate Investment Trust
The Indigenous Real Estate Investment Trust (IREIT) was launched in 2013 to give Indigenous investors the opportunity to invest in an actively managed commercial property fund alongside IBA and other Indigenous organisations.
As at 30 June 2015, the I-REIT comprised five commercial property assets collectively valued in excess of $83 million, jointly owned by nine Indigenous investors and IBA.Read more about the Indigenous Real Estate Investment Trust.