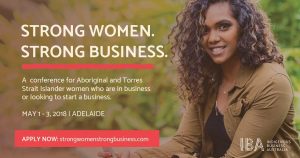 IBA is thrilled to announce the launch of Strong Women, Strong Business – a first of its kind conference for Aboriginal and Torres Strait Islander women who are in business or looking to start a business.
Held over three days in beautiful Glenelg in Adelaide, this unique event will bring together Indigenous businesswomen from remote, regional and urban Australia, across all stages of business and all industries, to achieve a true cross-section of the strong Indigenous women who are in business today, and will be tomorrow.
IBA will cover the costs of air travel, accommodation, transfers to and from the hotel and meals within the conference program for successful applicants. Spaces for this amazing conference are limited, so please tell us as much as you can about you, your business and why you would like to attend.
Applications close 5pm, Friday 23 March so please register today by visiting strongwomenstrongbusiness.com.