Running or getting involved in small business has its rewards and challenges. The annual Small Business Festival is a month-long initiative, presented by Small Business Victoria, that delves into the intricacies of what it takes.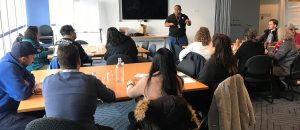 IBA was honoured to deliver much of the Indigenous program of this year's event and ran six full day workshops in partnership the local councils in Melbourne, Morwell, Geelong and Bendigo, as well as the TAFE Institute of Bendigo.
The theme of the sessions was around empowerment, with one of the six sessions, and the most popular, covering aspects of procurement – how to tender for those ever-important contracts, especially with the Victorian Government's 1 per cent Aboriginal procurement target introduced in October 2017 and Victoria's new social procurement framework.
Victoria is pushing the agenda in terms of social procurement with a new site around doing business with government, buyingfor.vic.gov.au, with the intent to provide a consolidated resource of information.
'As a 100% Indigenous owned start-up telecommunications company, I look for connections to gain advantage in a competitive market,' said Jade Miller, CEO, Indigenous National Technology & Telecom Network. 'The Small Business Festival Victoria gave us invaluable insight and access to expertise that will help us be a better business.'
Jadah Pleiter, Director, Heart2Heart Training & Supplies, said, 'A lot of things I already knew, but the festival gave me an opportunity to revise my thoughts and ask specific questions relating to our business. It's great meeting other Indigenous businesses in Victoria and building a community of like-minded entrepreneurs who might face similar issues.'
Going from the domestic market to the global is the next step. IBA will be working with Small Business Victoria to focus on building capability to exporting to the China market with a select group of Indigenous business.
To find out more, visit the Business Victoria or iba.gov.au.