The IBA Board is made up of eminent Indigenous and non-Indigenous members with expertise in business. The majority of the Board including the Chair are Indigenous. Board members are appointed by the Minister under section 157 of the Aboriginal and Torres Strait Islander Act 2005 (Cth).
Mr Edward (Eddie) Fry, Chair of the Board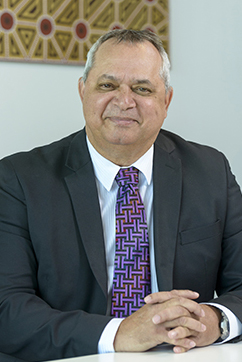 Appointed Chair of the Board, 1 December 2014.
Reappointed for a second term 2017-2021.
Eddie Fry is a Dagoman-Wardaman man from the Katherine region in the Northern Territory. He has extensive experience within the Australian resource sector and is a specialist in Indigenous and native title issues. He holds a Diploma in Business Management from the University of South Australia and is a graduate of the International Lead and Zinc Study Group.
Based in Adelaide, Eddie is a former director and a retained consultant of TNG Ltd, an Australian resource company focused on the exploration, evaluation and development of a multicommodity resource portfolio in the Northern Territory and Western Australia. He is a member of the development team for the TNG Ltd Mount Peake project.
Eddie is an executive director of Gimbulki Ltd, a native title land access company he established in 2002, Chair of the Indigenous Advisory Board at Broadspectrum (since 2010), Deputy Chair of the Aboriginal Foundation of  South Australia Inc., Chair of Todd River Resources Limited, and Chair of the Indigenous Land and Sea Corporation.
Eddie held senior executive roles with Normandy Mining Ltd, where he established the company's Traditional Owner policy. He was also involved with the Aboriginal and Torres Strait Islander Commission, Aboriginal Development Commission and Department of Aviation.
Eddie is a member of the Remuneration and Nomination Committee.
Mr Anthony Ashby, Deputy Chair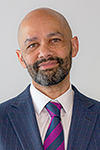 Reappointed Deputy Chair, 11 April 2017.
Anthony Ashby is a Gamilaraay-Yuwaalaraay man from north-western New South Wales. He is a Chartered Accountant and Registered Company Auditor. He holds a Bachelor of Commerce from the University of New South Wales and a Certificate of Public Practice from Chartered Accountants Australia and New Zealand.
Anthony's other current board roles include a directorship of the Hunter New England Central Coast Primary Health Network Ltd. Anthony is also an ex-officio member of the Supply Nation Audit and Risk Committee.
Anthony and his wife Vanessa have operated their own public accounting practice since 2004, providing a mix of taxation, assurance, accounting and consultancy services to their client base.
Anthony is Chair of the Finance, Investment and Products Committee and a member of the Remuneration and Nomination Committee.
Ms Claire Woodley, Board Director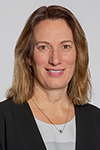 Appointed 22 October 2012.
Claire Woodley's diverse background includes experience in the banking sector, as well as clinical and managerial experience in the delivery of public mental health services. She has a passion for driving equal access to opportunity across the community, with a specific interest in providing opportunities for enablement for Indigenous people.
Claire brings to the Board her broad business banking experience and her corporate experience in governance, risk management, strategic planning, policy development, business re-engineering, and project and program management. She also has experience in project portfolio governance, including risk and quality oversight of the delivery of global change programs.
Claire has formal qualifications in occupational therapy, psychology and project management. She is also a Graduate Member of the Australian Institute of Company Directors.
Claire is also a member of the Finance, Investment and Products Committee and the Remuneration and Nomination Committee.
Ms Shirley McPherson, Board Director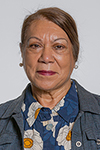 Appointed 1 December 2014.
Shirley McPherson is a Yamatji and Nyoongar woman from the Perth and Murchison regions of Western Australia. She has experience in program delivery and business development at the regional, national and international levels of government.
Shirley is a Chartered Accountant and has held senior positions in the private, government and university sectors. She is currently a National Business Development and Engagement Manager for AFL SportsReady.
Shirley has been a consultant to the mining industry in negotiating land use agreements in Western Australia and held roles as Group Manager of Indigenous Strategy and Business with Leighton Contractors Pty Ltd. She was member of the Australian Government delegation to the United Nations Permanent Forum on Indigenous Issues.
Her previous board appointments included Chair of Ngarda Civil and Mining Pty Ltd (2011–13) and the Indigenous Land Corporation (2001–11), and board member of McArthur River Mining Community Benefits Trust (2009–14).
Shirley is a member of the Audit, Risk and Performance Committee.
Mr Richard (Rick) Allert AO, Board Director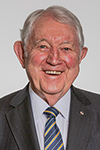 Appointed 1 December 2014.
Rick Allert is a Chartered Accountant with many years of experience in the corporate sector. He is a director of Genesee and Wyoming Inc. and its Australian subsidiary, Genesee and Wyoming Australia Pty Ltd; Chairman of Voyages Indigenous Tourism Australia Pty Ltd; Chairman of Kakadu Tourism (GLC) Pty Ltd and Kakadu Tourism (GCH) Pty Ltd; and Chair of AMP Superannuation Ltd and NM Superannuation Pty Ltd.
Rick's previous appointments include chair of AXA Asia Pacific Holdings Limited, Tourism Australia, Coles Myer Ltd and Coles Group Limited, Southcorp Limited, AustralAsia Railway Corporation, Voyages Hotels and Resorts Pty Ltd, and the Aboriginal Foundation of South Australia Inc.; and Director of AMP Limited and AMP Bank Limited.
In 2011, Rick was the recipient of the Ernst & Young Champion of Entrepreneurship Award, Central Region, for his long record of outstanding entrepreneurial achievement and contribution to the community.
Rick was awarded a member of the Order of Australia (1997) particularly for his work with the National Heart Foundation; a Centenary Medal (2003) for service to rail, business and taxation; and an officer of the Order of Australia (2008) for leadership in corporate social responsibility.
Rick is the chair of the Audit, Risk and Performance Committee and a member of the Finance, Investment and Products Committee.
Mr Scott Young, Board Director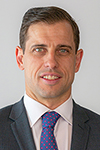 Appointed 30 April 2016.
Scott Young is a Koa man from the Winton area in Central West Queensland. He is the co-founder and Managing Director of a national specialised labour company, Young Guns Container Crew. He holds a Bachelor of Civil Engineering from the University of Southern Queensland and is a graduate of the MURRA Indigenous Business Master Class Program at the University of Melbourne.
With a focus on innovation and developing the next generation of leaders, Scott is a role model for emerging leaders and start-ups and a sounding board for strategic business advice. He has won multiple awards for his commitment to leadership, including 2015 Young Business Person of the Year in the Brisbane Lord Mayor's Business Awards.
Scott is a director of First Grade Group and All Things Containers. He is a member of the Supply Chain and Logistics Association of Australia and The Executive Connection, and is a certified supplier to Supply Nation.
Scott is a member of the Finance, Investment and Products Committee.
Dr Valerie Cooms, Board Director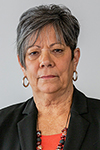 Appointed 21 June 2019.
Valerie Cooms belongs to the Nunukul people of Minjerribah or North Stradbroke Island.  Valerie is currently the Chair of the Quandamooka Yoolooburabee Registered Native Title Body Corporate.  Valerie is also a Director with Minjerribah Camping and is currently an Indigenous Research Fellow at the School of Historical and Philosophical Inquiry at the University of Queensland.
Valerie holds a PhD from Australian National University and is currently an Adjunct Professor at Griffith University.  Valerie is undertaking post-doctoral research in relation to examining Commonwealth policies from the late 1960s to the early 1990s.
Valerie was previously CEO of Queensland South Native Title Services and Member of the National Native Title Tribunal.
Ms Vanessa Elliott, Board Director

Appointed 16 May 2020.
Vanessa Elliott is a Jaru woman from the Kimberley region of Western Australia with cultural connections into the central and western desert. She is Principal of Vanessa Elliott and Associates.
Vanessa has extensive experience in mining, energy and primary industries as Corporate Affairs, Government and Community Relations Lead with Newmont Asia Pacific and Woodside and as an independent consultant.
She is also Forest Products Commissioner WA, Adjunct Industry Fellow with the Sustainable Minerals Institute University of Queensland, Board Member of Centre for Social Responsibility in Mining Advisory, Board Member of Desert Knowledge Australia and Chair of Kent Street Public Independent School Board Perth.
She holds a Graduate Certificate of Business University of Western Australia and Bachelor of Arts Communications and Cultural Studies Curtin University.
Vanessa is a member of the Audit, Risk and Performance Committee and a member of the Remuneration and Nomination Committee.
Ms Rosemary Addis, Board Director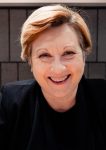 Appointed  16 September 2020
Rosemary is a globally recognised director and strategist at the forefront of innovation and investment for impact.
Her portfolio includes Ambassador of the Global Steering Group for Impact Investment, Senior Adviser to the UN Development Programme's SDG Impact, Founder and Director of Impact Investing Australia, and Chairs of the Climate Ready Initiative Advisory Board at Griffith University.
She has provided expert advice to impact related initiatives of the OECD, World Economic Forum, and collaborated with Skoll Centre at Oxford University and Initiative for Responsible Investment at Harvard Kennedy School. As well as published numerous case studies informing the next generation of leaders.
Her career spans more than 30 years including as a partner of Allens-Linklaters and with Kirkland & Ellis NY, first Social Innovation Strategist for the Australian Government, member of the Social Impact Investment Taskforce established under the UK Presidency of the G8, and founding Chair of the Australian Advisory Board on Impact Investing and Impact Investing Australia (Market Builder of the Year 2018).
Rosemary was made a Member of the Order of Australia (2020) for significant services to social innovation, impact investment and the law, ranked among Australia's AFR 100 Women of Influence for achievements in innovation (2015) and top thought leaders in finance as finalist for Women in Finance Thought leader of the Year (2017).