The Chief Executive Officer of IBA oversees the day-to-day administration of the organisation and is supported by the Executive Management team.
Rajiv Viswanathan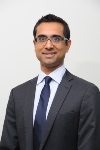 Chief Executive Officer
Rajiv joined IBA in February 2012 from the Macquarie Group, where he held various senior roles in business development and risk management, most recently in New York. Before joining Macquarie Group, he worked as a corporate lawyer in London and Sydney. He has experience in a range of commercial transactions, including establishing new businesses, acquisitions, joint ventures, investment funds and capital raising. Rajiv has a longstanding interest in working for better outcomes for Aboriginal and Torres Strait Islander peoples, including pro bono policy and advocacy work with key community organisations. He was formerly a non-executive director of Bangarra Dance Theatre.
As CEO of IBA, Rajiv is responsible for managing IBA's day-to-day administration in line with policies determined by the Board. He is assisted by an experienced executive team, with which he works to ensure IBA meets its corporate objectives.
Tom Hure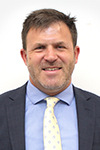 Chief Financial Officer
Tom joined IBA in 2017 after gaining experience as a Chartered Accountant. He has over 15 years experience in senior finance roles for both listed and private entities within sectors including funds management,  leasing, structured finance, real estate and transport. Tom has a Masters degree in Commerce and is a member of the Chartered Accountants Australia and New Zealand.
As CFO, Tom is responsible for the financial management function of IBA, ensuring appropriate financial information is provided to its programs, Board and regulatory authorities in accordance with its governing legislation.
Kia Dowell

Executive Director, Strategy and Innovation
Kia is a Gija woman from Warmun Community (Turkey Creek) in the East Kimberley of Western Australia. Her traditional Aboriginal name is Wadjbarreyal and her skin name is Nangala. She joined IBA in October 2017 from Codeswitch, an Indigenous strategic advisory and consulting firm she co-founded. Kia is passionate about working to support the growth of profitable and sustainable organisations that serve a greater social purpose for Aboriginal communities. She holds her MBA in International Business, Bachelor of Business Administration in Business Management.
As head of Strategy and Innovation, Kia oversees the development, implementation and performance of IBA's strategic plan, market research and insights, impact measurement and evaluation, thought leadership and advocacy and strategic partnerships.
Kirsty Moore

Executive Director, Products and Markets
Kirsty joined IBA in 2018 after three years as a director of commercial activity for the WA Government where she was head of both the Business Development and Asset Management Directorates of the Housing Authority. She had the responsibility for the $14.5bn WA social housing asset portfolio, Keystart Home Loans funding, shared equity program and affordable housing development. A graduate of the Australian Institute of Company Directors and Fellow of the Institute of Chartered Accountants, Kirsty has a strong background in technical accounting, corporate governance and commercial finance. Prior to joining the public sector, Kirsty worked for PricewaterhouseCoopers and National Australia Bank.
As head of Products and Markets, Kirsty manages the program directors to increase alignment across areas, help to develop and drive key strategies to find long-term funding solutions for IBA and support the growth of the business.
Peter O'Neill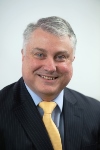 Executive Director, Business Services
Following roles with CRS Australia in strategic management and business strategies, Peter joined IBA in 2005 to establish the Corporate branch. Between 2007 and 2009, Peter headed up the Equity and Investments Program, during which time there was a renewed focus on improving the acquisition process, and developing a portfolio-based investment strategy and reporting framework. Peter brings with him the experience he gained from 20 years of service with the Royal Australian Air Force in numerous areas, including engineering, technical training, leadership development, personnel management and business process improvement.
As head of Business Services, Peter oversees IBA's human resources, information technology, property and security management, and information management.
Sean Armistead

Executive Director, Government Relations
Sean's traditional lands are located at Padthaway in South Australia from the extended Potaruwutj family of the Tatiara region and has worked serving Indigenous communities around Australia over the past decade.
Sean joined IBA in June 2020, he is an experienced executive in corporate, community and not for profit sectors. He has managed and delivered nationally award-winning programs impacting communities throughout Australia in collaboration with Federal and State governments resulting in the employment of more than 900 Aboriginal and Torres Strait Island people and tens of millions of dollars procured through Indigenous businesses.
His community engagement involved co-founding CareerTrackers, and board membership across multiple foundations.  Sean is a member of the alumni council at the University of Melbourne.