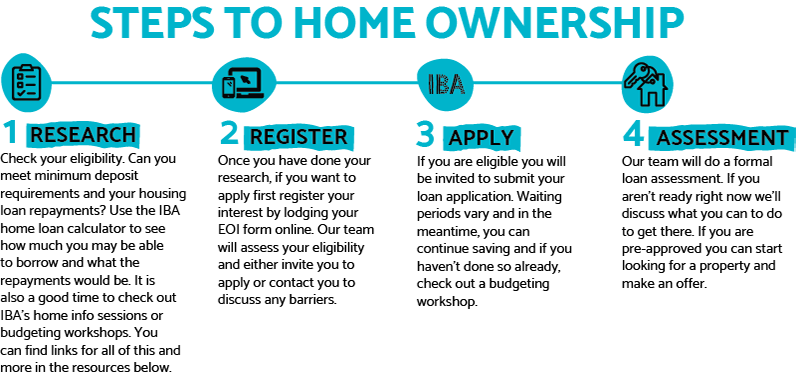 Owning a home can create a positive impact on your life in many ways, including your health, stability and general wellbeing.
Before starting your home ownership journey, there are many things you need to understand and prepare for. For example, have you done a thorough review of your household budget? What sort of deposit are you going to need? How much are you able to borrow, what sort of repayments can you afford or what kind of documentation you will need to begin an application? It's also important to understand the steps in applying for an IBA home loan and that due to very high demand, the process can take months.
Before you start the application process please take your time to read through the resources on the IBA website, including:
We recommend attending an IBA Home Ownership Info Session or Budgeting Workshop if there is one held in your area. These workshops have been designed to help you prepare for key parts of the application process, finding the right home, engaging a conveyancer, organising settlement, managing your repayments and more.
Once you have completed your research, you can either organise a call to speak with one of IBA's home loan officers or start an Expression of Interest application. Note: the IBA Expression of Interest process is not a home loan application. The Expression of Interest form allows our team to assess your situation in order to ensure you qualify for an IBA home loan. You can read more about this process here.