Indigenous Home Ownership Program
Facilitate Indigenous Australians into home ownership
Approach
The Indigenous Home Ownership Program facilitates Indigenous Australians into home ownership through providing access to affordable home loan finance. IBA's target customers are those who can meet the long-term obligations associated with owning a home, but are unable to access home loan finance through the commercial home loan finance sector.
IBA also supports Indigenous Australians in remote communities to overcome the obstacles they experience in taking up home ownership, including, where applicable, by providing additional home ownership assistance for people who relocate to other areas to take up employment.
More than 65,000 additional Indigenous households would need to move into home ownership to equal the wider Australian home ownership rate. The Indigenous population is growing at a faster rate than the non-Indigenous population, and is expected to increase by 60 per cent from 2011 to 2031. The number of new Indigenous home owners required to bridge the gap is likely to increase at a similar rate. IBA recognises that it has an increasing role to play.
Strategies
IBA regularly reviews its program policy and settings to ensure that they remain relevant to customers' circumstances and the housing affordability issues facing first home buyers and support emerging opportunities to increase Indigenous home ownership.
IBA will undertake a number of activities in 2016–18 to better target its home lending, increase its capacity to close the gap, and deliver better and more efficient products and services. In particular, IBA will:
refine eligibility criteria
review its product set to ensure that it is meeting the needs of its target customers
improve customer service by automating manual processes and reports
implement processes to regularly review and report on the operation of IBA Board guidelines for loan approvals
undertake a customer survey to garner a fuller appreciation of customer needs and perceptions
investigate potential enhanced models for credit provision, particularly by the private sector.
Performance
The indicators in Table 1 measure the success of the program overall in providing home loans and related assistance to Indigenous customers and effectively managing the loan portfolio. They also measure the success of the program in targeting lending and assistance to customers as appropriate to their circumstances and needs, and facilitating home ownership in remote Indigenous communities.
Table 1: Indigenous Home Ownership Program performance measures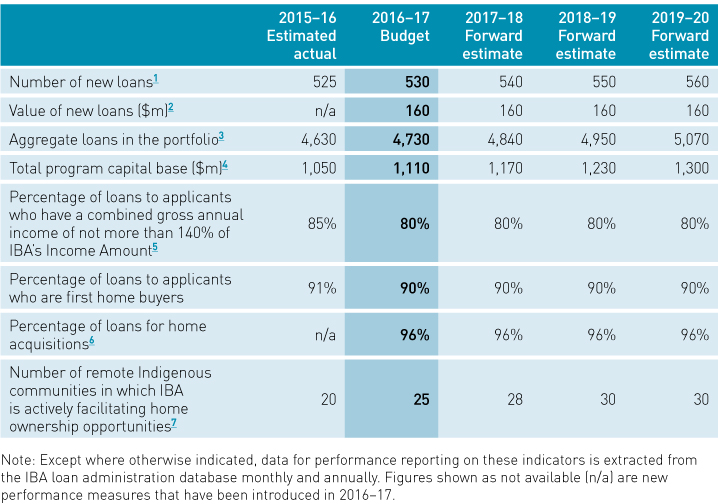 Business Development and Assistance Program
Assist Indigenous Australians to start, acquire and grow viable businesses
Approach
In accordance with government and stakeholder expectations, the Business Development and Assistance Program operates as a national service to assist Indigenous Australians to start, acquire and grow viable businesses across Australia. The portfolio has historically financed a broad spread of businesses across the major geographic zones and industry sectors, and is weighted towards start-up small businesses.
As the program has matured, IBA has increasingly needed to focus on the quality of its start-up support and ways to grow established businesses to generate long-term wealth and economic independence.
Because IBA services emerging markets, its loan portfolio naturally carries higher risk than the portfolios of private sector banks. This further emphasises the need for IBA to focus on the quality of its decision-making and the support we put in place to ensure that businesses are moving along viable development pathways.
In addition, opportunities in the Indigenous business sector have grown in recent years and, consequently, the service needs of the sector have become more diverse.
With these factors in mind, IBA is moving to transform the program in step with the growth of the Indigenous business sector. The program is being reorganised to broaden and deepen IBA's capability to assist Indigenous businesses from start-up through to consolidation and growth. Figure 4 summarises the key elements of this process.
Figure 4: IBA and the business lifecycle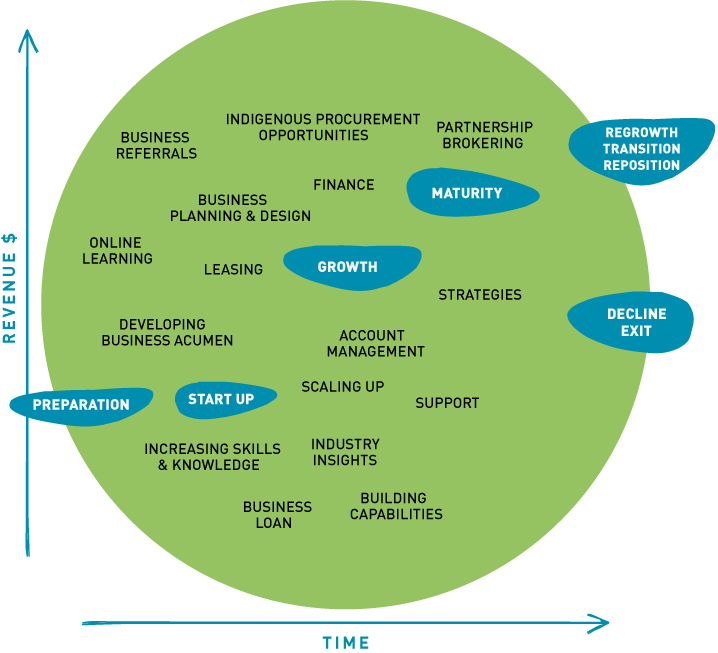 IBA is also building a specific capability to support the growth and diversification of established businesses by assisting them to access supply chain and procurement opportunities. These initiatives will have the combined effect of mitigating portfolio risk and ensuring that the program is more effective in assisting the Indigenous business sector to grow.
IBA will adopt a similarly holistic approach to customer needs, providing assistance across the business development life cycle, including the development of business proposals and risk management. Continued development and deployment of IBA's customer relationship management system will enable a more customer-centric approach as well as routing of customer requirements to the relevant areas of expertise within IBA.
Strategies
Over the life of this corporate plan, IBA will:
increase the commercial capability of Indigenous entrepreneurs through training, business support, advice and mentoring, tailored to individual business development pathways
meet the diverse capital needs of Indigenous entrepreneurs, from start-up to expansion, through enhanced financial products and services, including in partnership with the banking sector
develop procurement workshops to support Indigenous businesses to enter the supply chain opportunities created by the Indigenous Procurement Policy
focus the efforts of our frontline staff based in the regions on finding, developing and supporting Indigenous entrepreneurs as they look to establish and grow businesses.
In the start-up stage of business in particular, IBA is shaping its services to better develop our customer base and create the best opportunities for success in business. Initiatives include conducting business information sessions, online learning modules, and educational workshops.
Performance
IBA has developed a broad set of performance measures to cover its full range of business development activities. These are listed in Table 2.
Table 2: Business Development and Assistance Program performance measures 
Equity and Investments Program
Assist Indigenous Australians to achieve economic independence through investments
Approach
IBA identifies, develops, and participates in investment opportunities that promote economic independence for Indigenous Australians by building and managing a substantial portfolio of sustainable investments diversified by industry and geography. These investments collectively benefit Indigenous Australians through the generation of financial returns, commercial capability, employment, training, and supply chain opportunities.
Typically, alongside Indigenous co-investors and other third parties, IBA invests through a range of companies and trusts. Subsidiaries' accounts are consolidated into IBA's accounts, and details concerning each investment are included in IBA's annual report.
IBA has developed a corporate governance framework and related policies which set out the governance expectations to which its investee businesses are subject. IBA appoints experienced nominee directors to the boards or governing bodies of investee businesses in order to ensure that they are managed prudently and in keeping with IBA's corporate governance approach.
IBA has historically had a relatively small investment customer base, reflecting its focus on bespoke joint ventures. Our current customers include land council subsidiaries, traditional owner groups, native title groups and Indigenous community/not-for-profit organisations. Almost 50 per cent of our existing customers are community/not-for-profit organisations.
Responding to changes in the business environment, over the past two years IBA has broadened its engagement considerably in order to leverage its impact. In consultation with Indigenous groups and industry experts, we have been devising ways for IBA and its Indigenous co-investors to access more liquid and diverse asset classes, which will provide co-investment opportunities for a greater range of groups than has been previously possible.
IBA has undertaken initiatives such as the establishment of the Indigenous Investment Principles working group, engagement by IBA's Traditional Owner and Sustainability Unit, and the launch of pooled investment vehicles such as the Indigenous Prosperity Funds and the Indigenous Real Estate Investment Trust (I-REIT). These managed funds complement IBA's other investment offerings, and enable it to support Indigenous groups to establish long-term investment portfolios. This in turn provides an economic base from which they can also partner with IBA to pursue direct investments, commercial property investment and local enterprise development.
The revised strategy (for the three financial years from 1 July 2015) charts a path for appropriate asset allocation, target returns, acquisitions and divestments, which will establish the optimal asset allocation and economic impact for Indigenous Australians.
Strategies
In keeping with these aspirations, the specific priorities are to:
grow the assets under the management of IBA's managed funds to at least $250 million by 30 June 2018, with at least fifteen Indigenous co-investors in each of the Indigenous Prosperity Funds and I-REIT
within the direct investments portfolio

continue the divestment of legacy assets that do not meet IBA's revised investment strategy or the expectations of Indigenous co-investors
by 30 June 2017, establish a renewable energy sector strategy which provides opportunities for Indigenous communities and organisations to benefit from solar and other renewable energy development on their land
over the period to 30 June 2019, build a portfolio of six to eight investments in the grocery retail sector which collectively have a turnover of at least $100 million and generate financial returns, employment, training and supply chain benefits for Indigenous Australians
over the period to 30 June 2019, build a portfolio of eight to ten investments in the tourism sector which collectively have a turnover of at least $100 million and offer domestic and international visitors the opportunity to engage with and experience Indigenous cultures and peoples in an ethical, authentic and dynamic context
generate financial returns, employment, training and supply chain benefits for Indigenous Australians

alongside the Indigenous Land Corporation, support commercial development of property on Indigenous-held land, with an initial focus on three identified opportunities in Sydney, Adelaide and Perth
continue to grow IBA's asset leasing book through the Indigenous Economic Development Trust and IBA Leasing Solutions, with a view to building a book of at least $60 million in leased properties and assets by 30 June 2019
by 30 June 2017, establish an Indigenous observership and leadership program across IBA's investee businesses and ventures, to provide emerging Indigenous leaders with mentoring and practical experience in business management and strategy through IBA's investment portfolio.
Performance
The indicators in Table 3 measure the program's success in generating financial returns to both IBA and Indigenous co-investors, as well as broader contributions to Indigenous economic self-sufficiency through the creation of employment opportunities. Where relevant, the performance measures relate to IBA inclusive of its subsidiaries.
Table 3: Equity and Investments Program performance measures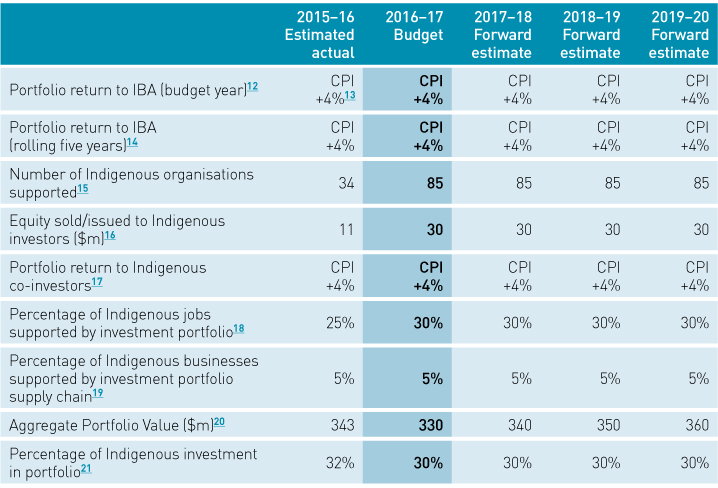 Next page: Resourcing